It's finally landed – the new Sengled BOOST has hit the shelves and is ready to bring WiFi to every corner of every home in Australia!
We are all familiar with black spots for WiFi, and with our ever more connected and content rich lives, they can be pretty annoying!  So we came up with the solution – build a WiFi boosting lamp, and make it fully controllable and energy efficient at the same time.  Multiple birds – 1 lamp.
To top it off, we make this lamp not just in E27 or B22 bases for your table and floor lamps – but also with a GU10 – so when you upgrade your halogen downlights to LED, you can add a BOOST to the mix and get even more bang for your buck!
BOOST is the latest release from Sengled, bringing connected living and light together through genius Smart Lamps.  The APP to drive the lamps is free, and available for Apple and Android users alike.
What's even more amazing is that you can link up to 256 of these bad boys together – at at a 30M spread each, that means you could make your WiFi travel over 7 kilometers – just with BOOST!
Now, that's a BIG home with full connectivity!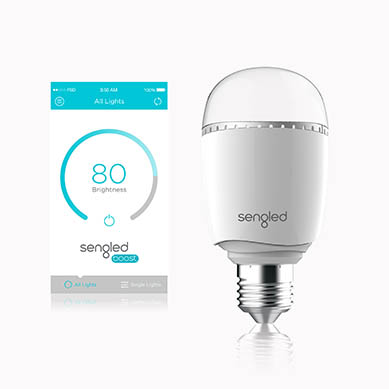 All you need to run BOOST is a light socket, and our APP – it's as easy as that.
Grab yours today and BOOST your WiFi signal with perfect speed for perfect content no matter where you are at home.